How do you celebrate the end of a year and the beginning of the next? Do you want to head to a big, joyful party on New Year's Eve, or would you rather have a quiet night of reflection at home by yourself or with special people?
We've all got our favorite traditions, and I suspect yours have evolved over the years as mine have. When we were younger, my husband and I used to do the 5-mile Midnight Run in Central Park with fireworks exploding above us and champagne at the finish line!
Nowadays, it's usually spent quietly with friends or family, sharing stories of the ups and downs of the past year and making wishes for the year ahead (more about that later).
And of course, every culture, every country has their own fun, sometimes quirky, New Year's traditions as well. If you're inspired to embrace some new practices, here are lots of ideas to get you started.
Food for good luck
Years ago when I was researching symbolic foods to offer at my January New Moon Circles, I discovered just how many rich (pun intended!) edible New Year's ideas there are from around the world:
Sushi – a perfect combo of rice (for good luck), fish (for plenty) and seaweed (for happiness from Japan.
12 grapes – a Spanish tradition that started in the 1800s when wine growers were trying to boost sales at the end of the year! Eating 12 grapes after the 12 strokes of midnight is supposed to bring about a year of good fortune and prosperity.
Eating seven, nine, or 12 meals – in Estonia, these numbers represent good luck, and everyone is encouraged to feast throughout the day. Anything left over becomes an offering for visiting family spirits!
"Hoppin' John" – in the U.S South, this dish is said to bring good luck in the New Year. It's made of rice and black-eyed peas (representing coins) often served with collard greens (the color of money) and cornbread (gold).
Throwing things!
Pomegranates in Greece – in Greek mythology, pomegranates symbolize abundance and fertility. Just after the stroke of midnight on January 1, modern day Greeks smash the red, juicy fruit against their front doors… the amount of seeds scattered around reflects how much good luck you'll have in the coming year.
Dishes in Denmark – if you wake up on New Year's Day with a big pile of broken plates outside your door, it means your neighbors want to leave any arguments and ill will behind. The more plates, the more luck you'll have!
Flowers in Brazil – crowds gather on the beaches to float offerings and throw flowers to the powerful water goddess Yemoja who is said to rule the oceans and bring good fortune.
Eggs in the U.S. – this is actually one I found years ago in a therapy journal: take a carton of eggs (uncooked) and write on them with a marker all of the negative thoughts, actions, memories, and faux pas from the past year. Then smash them in your garden to release all the gook and create space for good things to come. The smashed eggs are great fertilizer, too!
Lighting/burning rituals
Drinking ashes – before you completely reject this Russian custom, know that there is champagne involved! People write their wishes for the coming year on a slip of paper, then burn it with a candle and drink the ashes with that glass of bubbly.
Pouring lead – this German tradition called Bleigießen involves melting lead or tin over a candle flame, then pouring it into a container of cold water. The shape that emerges as the lead re-forms is said to reveal your fate in the new year.
Candle magic – I've done this one for 20 years with various groups at parties, women's circles, and First Night Celebrations. It's basically magical arts and crafts, and a powerful way to set intentions for the New Year. You can get full instructions HERE in my Candle Magic article from 2020.
This is just a handful of the creative New Year's Eve traditions from around the world. You can certainly borrow any of them, regardless of your ancestry, and then maybe create some new ones of your own. I'd love to hear about your personal favorites!
Connect with Deborah on The Wellness Universe.
---
All information, content, and material are for informational purposes only and are not intended to serve as a substitute for the consultation, diagnosis, and/or medical treatment of a qualified physician or healthcare provider. The information supplied through or on this page, or by any representative or agent of The Wellness Universe, is for informational purposes only and does not constitute medical, legal, or other professional advice. Health-related information provided through this website is not a substitute for medical advice and should not be used to diagnose or treat health problems or to prescribe any medical devices or other remedies. The Wellness Universe reserves the right to remove, edit, move or close any content item for any reason, including, but not limited to, comments that are in violation of the laws and regulations formed pursuant to the Federal Food, Drug, and Cosmetic Act. None of the posts and articles on The Wellness Universe page may be reprinted without express written permission.
---
The Wellness Universe presents Integrative Healing Expert Leader, Rosemary Levesque. She is a Licensed Spiritual Healer, Reiki Master Teacher, Certified Vibrational Sound Master Teacher, and Medicinal Aromatherapist, who will be guiding you through the Optimal Healing 12-month program that will help you to enjoy health and wellbeing through the integration of natural and alternative methods, modalities, and resources. 
Catch the recorded session(s) and be sure to join the next LIVE class! 
Register today:  https://bit.ly/OptimalHealingCourse
---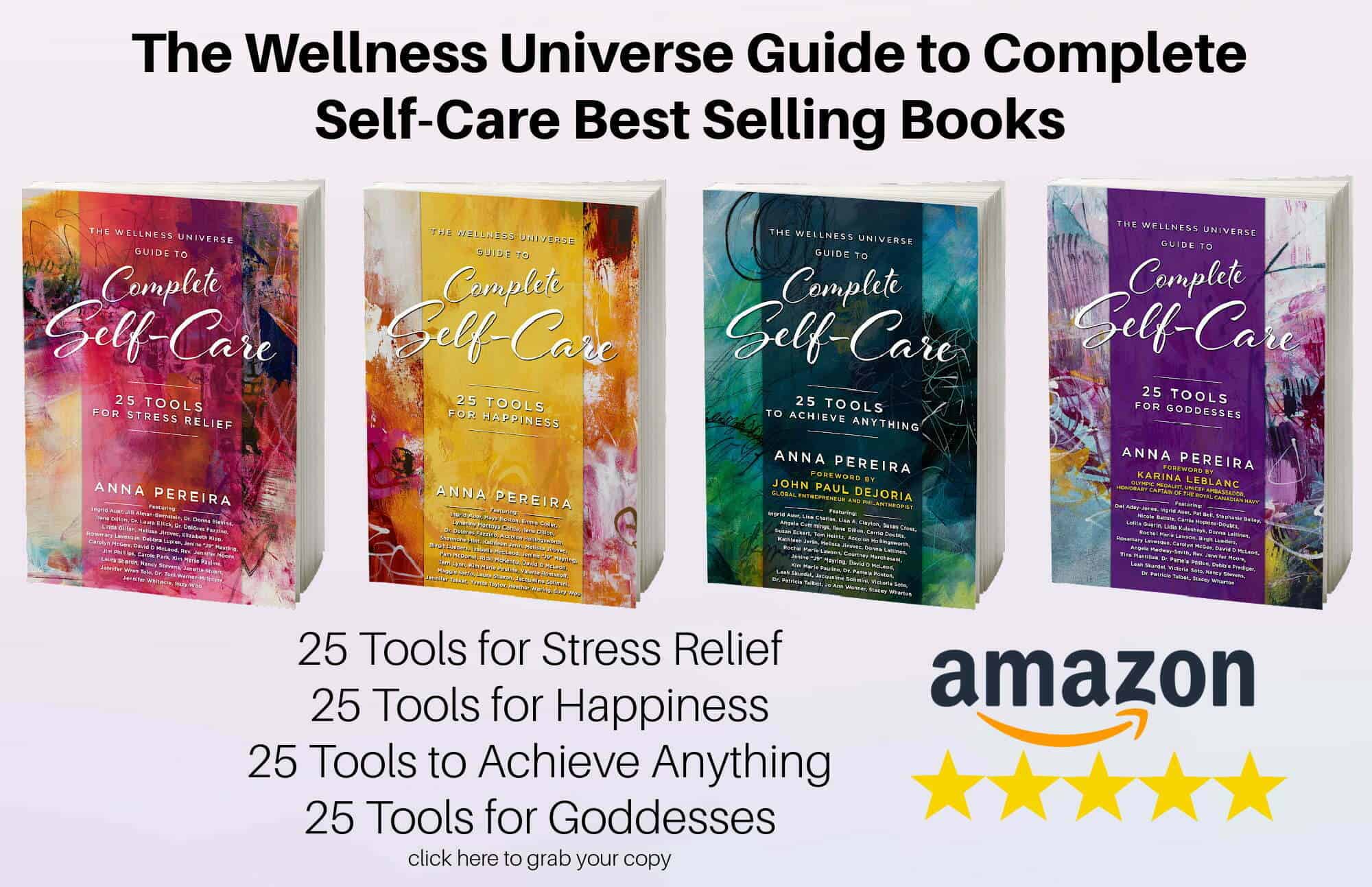 With over 250 independent reviews see how our self-care books are helping thousands of people around the world. Digital and paperback books are available now.
---

 Connect to the people that help you live your best life: The Wellness Universe
Life & Relationship Coach, Deborah Roth, MA is also a Counseling Astrologer, and Interfaith Minister. She leads women's New Moon Circles and Full Moon TeleMeditations every month and loves designing creative, meaningful rituals for individuals and couples to energize their lives and relationships.