Tina Plantillas reads Chapter 8: Go to Bed Like a Goddess! How One Nightly Affirmation Can Spark Gratitude and Change Your Life from the #1 best-selling book in several categories on Amazon, The Wellness Universe Guide to Complete Self-Care, 25 Tools for Goddesses. Listen and watch the video below as she reads!
In this excerpt, Tina opens her chapter by sharing her surreal near-death experience. Let's listen as she reads about her life-changing and terrifying accident that has led to her empowerment. Her heroic story is followed by her tool that will support you to embrace your unique Goddess energy.
"I couldn't believe I was standing in a puddle of my blood, with only a tee shirt and panties on, surrounded by strangers as I closed my eyes and tried to remember to breathe.
I felt a horrific pain in my stomach, like a punch to the gut. I looked down and saw I had cuts all over my body. What the fuck just happened?!
My stomach and my legs looked like I had been involved in some sort of brutal knife fight. I could not believe my eyes. In a panic, I hobbled through shards of glass, cutting the bottom of my feet, making my way just inside the doorway to scream for help.
As I called for help, I assessed my body and saw a large piece of glass sticking out of my hip. My body was hot and tense. My husband, Will, was running towards me, pulling up his pants rushing from the bathroom.
"What happened!?" He exclaimed. I tell him, "A glass bottle exploded in my hand when I picked it up," as I was crying. He is trying to get a look at this large fragment protruding from my hip.
I'm looking to him to try and read his face and reaction to see how bad this is. He stays calm. He is the calmest in tense situations, so this scared me because I looked to him to indicate how I should react. I tried to remember to breathe as my body started to get weaker.
At this point, our daughter, Jazmyne, comes in, still rubbing her eyes from just waking up, and asks, "What is going on?" She starts to approach and can see how bad the situation is. While her dad is kneeling to get a closer look, I'm purposely trying not to look, as I can feel the blood dripping out of my body. Looking to see if he should pull it out, Jazmyne and I both exclaim, "NO! We don't think you should pull it out." I told him we had seen one too many Grey's Anatomy episodes to know—DO NOT PULL IT OUT. "Call 911, Jazmyne!" he yelled as the blood flow continued to pool on the floor around my feet.
As Jaz called 911, Will was holding a towel around the area. He asked her to bring me a long tee-shirt before the first responders arrived since I was half-naked due to the weekly weigh-in. Within minutes they pulled up."
Tina Plantillas is a Certified Spiritual Life Coach, Yoga and Meditation Teacher, Movement facilitator, and Commercial Credit Corporate extraordinaire.
Watch and listen to the video below to experience Tina's entire chapter.
About this book:
25 dedicated Wellness Universe experts come together to help you live a life of well-being, confidence, balance, and betterment in this powerful collaboration.
The collective wisdom, expertise, and passion contained in the pages of the book is beyond what you can imagine. With the power of their authentic stories and the master teaching of their tools, what you have in your hands supports you to live in your unique Goddess energy from a foundational, whole-person approach.
Pick up your copy on Amazon.
Connect with Tina on The Wellness Universe.
---
All information, content, and material is for informational purposes only and is not intended to serve as a substitute for the consultation, diagnosis, and/or medical treatment of a qualified physician or healthcare provider. The information supplied through or on this page, or by any representative or agent of The Wellness Universe, is for informational purposes only and does not constitute medical, legal, or other professional advice. Health-related information provided through this website is not a substitute for medical advice and should not be used to diagnose or treat health problems or to prescribe any medical devices or other remedies. The Wellness Universe reserves the right to remove, edit, move or close any content item for any reason, including, but not limited to, comments that are in violation of the laws and regulations formed pursuant to the Federal Food, Drug, and Cosmetic Act. None of the posts and articles on The Wellness Universe page may be reprinted without express written permission.
---
Celebrating International Day of Happiness March 20th with a best-selling read!

Everyone wants to be happy, but we're not very often taught how.
Everyone needs a special toolkit for that, and better yet, a master teacher to guide them! What if you had 25 of those guides alongside you on the journey? That would be a game-changer.
The Wellness Universe Guide to Complete Self-Care: 25 Tools for Happiness is that powerful expert toolkit you've been hoping for. You'll find the authentic stories of our authors to inspire you, and then you'll be blown away by the level of mastery with which they then teach you a practical tool for happiness. These are techniques for a positive mindset, balanced emotions, a healthy body, better eating habits, better communication skills, and more!
Because it's time to be happy and this book will start you on your journey.
Grab your copy now! 
---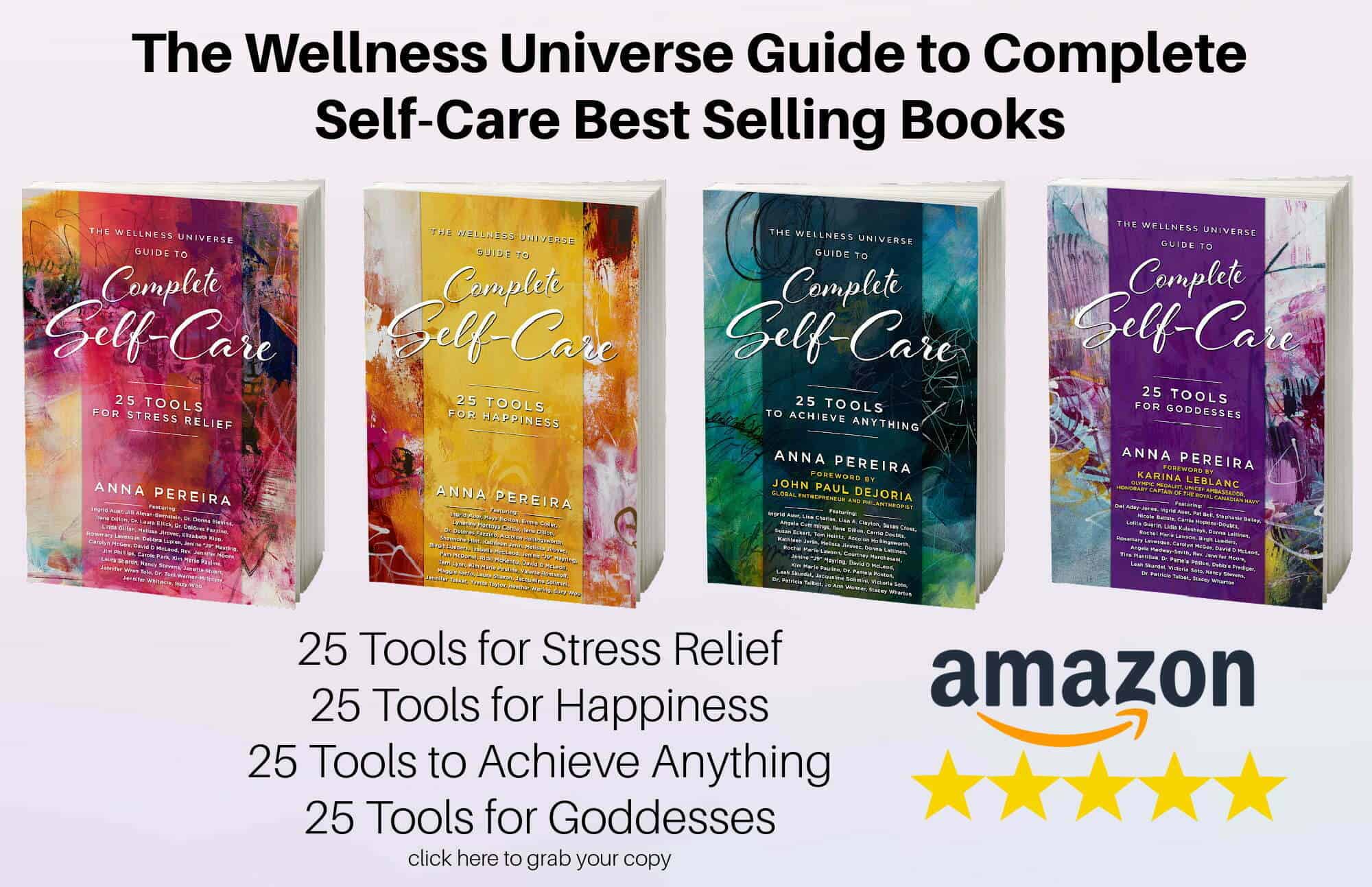 With over 250 independent reviews see how our self-care books are helping thousands of people around the world. Digital and paperback books are available now.
---
Self-development, self-care, and inspirational classes and sessions by Wellness Universe World Changer instructors who support your total well-being.
Visit The Wellness Universe Lounge today!
---
The Wellness Universe is here to serve your best well-being. If you are experiencing anxiety, grief, overwhelm, guilt, anger, or seeking ways to cope and get help for stress, relationships, parenting, or any other issue during this challenging time, we have wonderful resources for you to connect with. Our WU Best Help members are offering reduced rates, sliding scale payment options, and even pro-bono sessions.
WU Best Help
The Wellness Universe is your resource for health, wellness, well-being, and transformation. We serve and support professionals who make the world a better place and individuals and groups who seek their best life.
A woman owned company; having the vision in 2013, Anna Pereira launched the first directory in 2015 bringing together a community of members making the world a better place to be found by those seeking their best life. The Wellness Universe has grown since then to be a one-stop shop for total wellness support! We are a vetted community, online directory, book publisher, resource center, event producer, content platform, and so much more, supporting whole-health and well-being on a global scale.
The Wellness Universe is a home that connects industry professionals in the health, wellness, and well-being fields to seekers of total well-being. WU provides our WU World-Changer members with peer support, Wellness Universe produced events (live and online), projects, visibility, business mentoring, and community. Through The Wellness Universe our WU World-Changer members serve WU Friends, seekers of health, wellness and transformation, with coaching, workshops, content and more.
The Wellness Universe provides individuals and groups seeking their best lives with access to our members, wellness content, educational resources, and guidance in all areas of wellness to transform visions of how they want to live life into the life they experience.
Through the directory, WU Featured Blog, SoulTreat wellness retreat, Self-Care Books, group well-being programs, and online learning center, The Lounge, The Wellness Universe provides many avenues to support whole health, mind, body, spirit and planet.
Join us today! Wellness Professional or Seeker of Your Best Life