What Is Emotional Wellness?
Maintaining an optimal affection that is able to perceive and cope with daily life circumstances in a positive way. Emotional wellness inspires self-care, relaxation, stress reduction, and the development of inner strength. It is important to be attentive to both positive and negative feelings and be able to understand how to handle these emotions. Emotional wellness also includes the ability to learn and grow from experiences. Emotional well-being encourages autonomy and proper decision-making skills. It is an important part of overall wellness. (*)
How Can an Emotional Wellness Practitioner Help You?
An Emotional Wellness Practitioner can help you enhance your level of emotional wellness and balance to achieve a deeper sense of awareness.
What Are the Benefits of Emotional Wellness?
A healthy emotional wellness practice can assist you in some of the following ways:
A full life with a new vision or purpose
Improved social skills
Optimistic thinking
Altered negative feelings, thoughts, and behavior patterns
Heal from stress, anxiety, and depression
The ability to identify and achieve goals or life desires
Lowered blood sugar and blood pressure
Increased self-confidence
Top 8 Emotional Wellness Resources:
Marisa Ferrera
Women's Empowerment Coach & Mentor
"My passion is empowering women to create healthy boundaries and harmonious family relationships while being true to who they are."
thewellnessuniverse.com/world-changers/marisaferrera/
Jill Grumbache, CJI (Certified Journaling Instructor)
Founder, Holistic Journaling Ink (Beneficial-Journaling Professional)
"I provide courses, workshops, and programs about how to journal effectively and safely for mental, emotional, physical, and spiritual health and well-being
thewellnessuniverse.com/world-changers/jillgrumbache/
Gayle Nowak
Visibility Sage, Creator of Sage SensationTM Retreats, certified SourcedTM Retreat Leader, Founder of The Story Stylist
"I guide leaders of the New Earth to feel safe in your creator energy, transmute the visibility blocks keeping you from feeling seen, and express your true self freely so you can magnetize your soul's mission."
thewellnessuniverse.com/world-changers/gaylenowak/
---
Sources:
(*) https://shcs.ucdavis.edu/wellness/emotional
---
All information, content, and material are for informational purposes only and are not intended to serve as a substitute for the consultation, diagnosis, and/or medical treatment of a qualified physician or healthcare provider. The information supplied through or on this page, or by any representative or agent of The Wellness Universe, is for informational purposes only and does not constitute medical, legal, or other professional advice. Health-related information provided through this website is not a substitute for medical advice and should not be used to diagnose or treat health problems or to prescribe any medical devices or other remedies. The Wellness Universe reserves the right to remove, edit, move or close any content item for any reason, including, but not limited to, comments that are in violation of the laws and regulations formed pursuant to the Federal Food, Drug, and Cosmetic Act. None of the posts and articles on The Wellness Universe page may be reprinted without express written permission.
---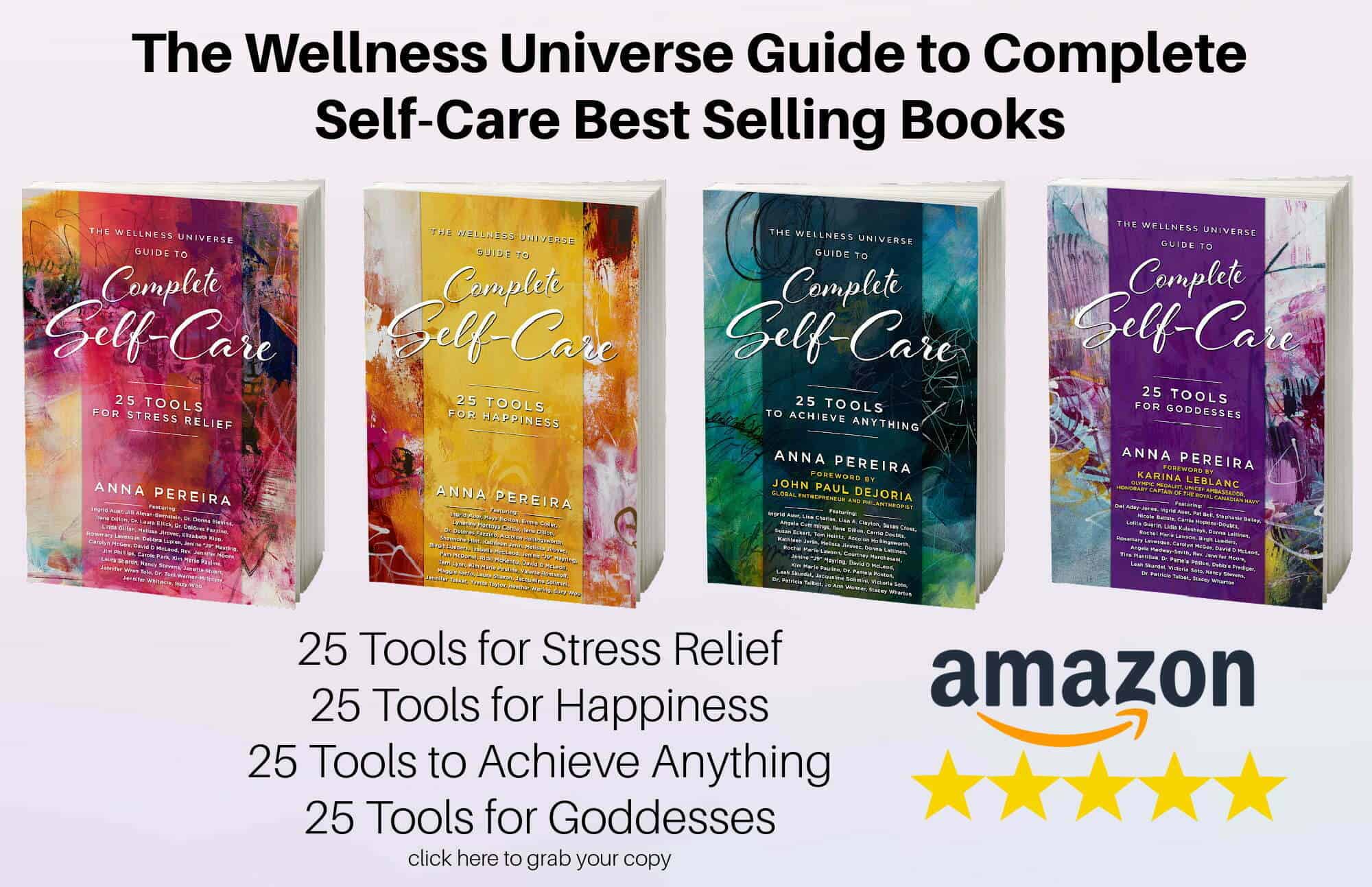 With over 250 independent reviews see how our self-care books are helping thousands of people around the world. Digital and paperback books are available now.
---
Self-development, self-care, and inspirational classes and sessions by Wellness Universe World Changer instructors who support your total well-being.
Visit The Wellness Universe Lounge today!
---
The Wellness Universe is here to serve your best well-being. If you are experiencing anxiety, grief, overwhelm, guilt, anger, or seeking ways to cope and get help for stress, relationships, parenting, or any other issue during this challenging time, we have wonderful resources for you to connect with. Our WU Best Help members are offering reduced rates, sliding scale payment options, and even pro-bono sessions.
WU Best Help