Are you looking for new wellness podcasts to help enhance your entire well-being? Look no further! We've compiled our top 5 picks (in no particular order) from our WU World-Changers. No matter where you are on your wellness journey, let us help you get on your way!
Spiritual Energy Healer, Soul Re-unification Specialist, Quantum Alchemist
Perspective Reboot® with Kristi Borst
Ancient wisdom, integrative healing of mind-body-spirit-emotions for self-mastery & empowerment beyond what meets the Eye, the MRI, and the "why can't I?"
---
---
Certified Expressive Arts Coach (RMT, CCF), Credentialed Creative Arts Teacher (MS), Certified Grief and Trauma Coach
"Courageous, Creative Conquerors" with Jean Voice Dart
Join Jean Voice Dart, Expressive Arts Coach, and her guests, for the "Courageous Creative Conquerors" podcast. Interviewees share and discuss their creative efforts (fine art, writing, music, dance, craft-making, etc.) and their life journey of triumph over trauma through the expressive arts.
---
---
Certified Master Life/Mindset/Transformation Coach
Life Mastery Wisdom with David D McLeod
Powerful messages, tips, ideas, and suggestions for creating and living the life of your deepest heart's desire.
---
---
High Performance and Wellness Coach, Chronic Health Specialist
Apona Healing: Centered Connected Conscious™
Get Centered Connected Conscious™️, and Create Lasting Self-Empowerment. Apona Healing helps you achieve your highest state of health, and master your inner power, in any circumstance. If you would like to Reclaim Your Health, Regain Your Energy and Refine Your Power, you are in the right place!
---
---
Visibility Sage, Creator of Sage SensationTM Retreats, certified SourcedTM Retreat Leader, Founder of The Story Stylist
Positive News Now – Season 1 Season 2
Positive News Now features business visionaries, change-makers, and paradigm-shifters on the frontlines of human evolution. Where mainstream media focuses on fear, Positive News Now shines a light on the people evolving and elevating their work and frequency, and, as a result, their positive impact on the world. Discover the stories of New Earth leaders who are grounded in the new Cosmic Age. Receive fascinating insights and inspiration that help you define and create fulfillment and success aligned with your soul.
---
---
All information, content, and material are for informational purposes only and are not intended to serve as a substitute for the consultation, diagnosis, and/or medical treatment of a qualified physician or healthcare provider. The information supplied through or on this page, or by any representative or agent of The Wellness Universe, is for informational purposes only and does not constitute medical, legal, or other professional advice. Health-related information provided through this website is not a substitute for medical advice and should not be used to diagnose or treat health problems or to prescribe any medical devices or other remedies. The Wellness Universe reserves the right to remove, edit, move or close any content item for any reason, including, but not limited to, comments that are in violation of the laws and regulations formed pursuant to the Federal Food, Drug, and Cosmetic Act. None of the posts and articles on The Wellness Universe page may be reprinted without express written permission.
---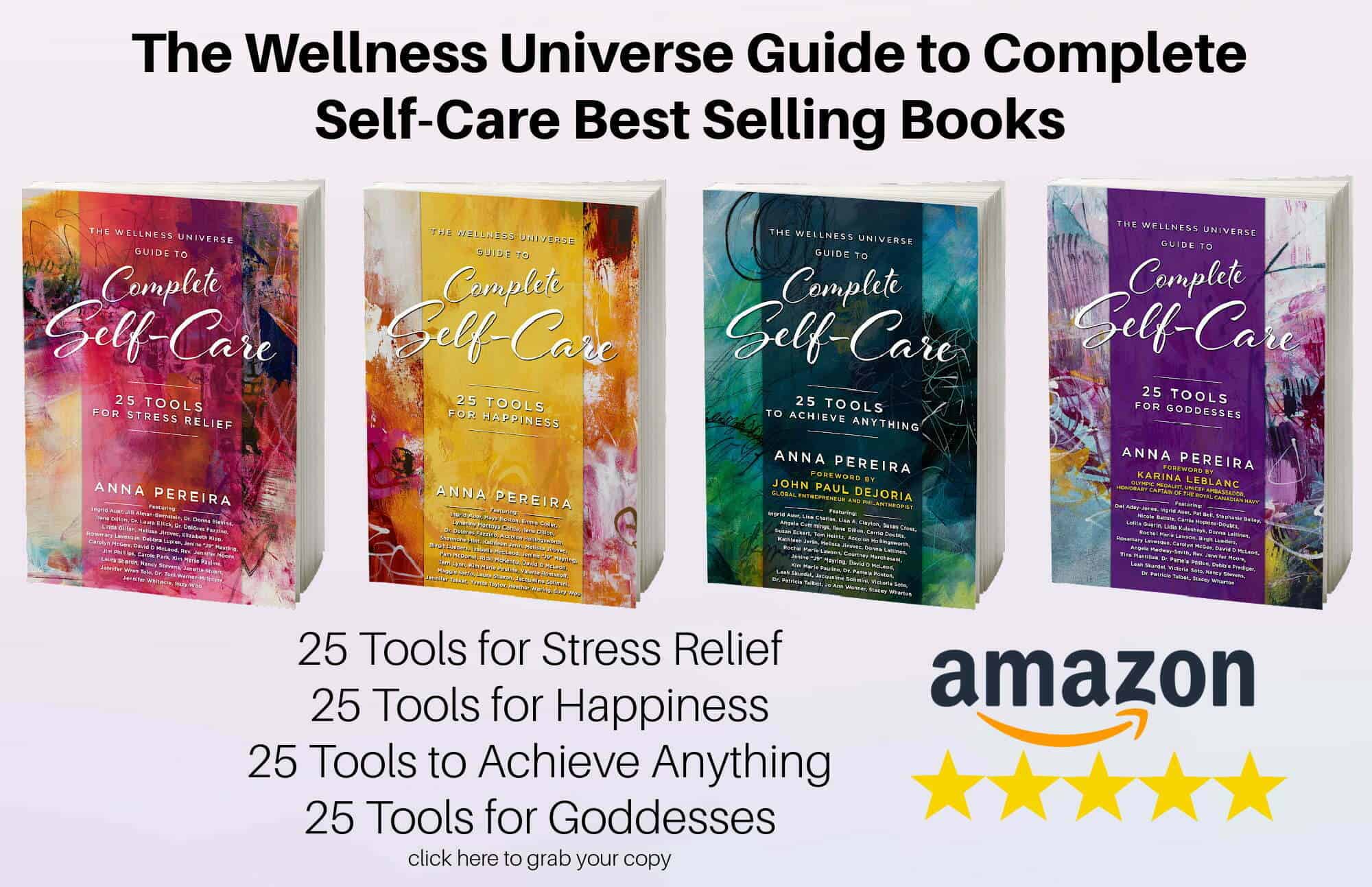 With over 250 independent reviews see how our self-care books are helping thousands of people around the world. Digital and paperback books are available now.
---
A Beginner\'s Guide to Sound Healing with Sound Healing Expert Sharon Carne
This course goes live on Thursday 5/5 – Register now
---
The Wellness Universe is here to serve your best well-being. If you are experiencing anxiety, grief, overwhelm, guilt, anger, or seeking ways to cope and get help for stress, relationships, parenting, or any other issue during this challenging time, we have wonderful resources for you to connect with. Our WU Best Help members are offering reduced rates, sliding scale payment options, and even pro-bono sessions.
WU Best Help