Happy New Year – It's 2022! We know words have power and carry both high and low vibrations. By choosing high vibration words to reflect what you truly want to experience for 2022, you're engaging in the art of manifesting your year!
Here is some inspiration from Wellness Universe World-Changers and their word of the year:
Jacqueline Solimini declares,
LOVE is the opposite of fear, a feeling which shook the world last year. My guiding principle for 2022 is love. Love of new and old friends, opportunities, good food, great health, and a fearless way of being.
Love it works every time!
Heather Waring shares,
My word for the year is FLOW and I love it! There has been so much stopping and starting in the past two years and I have realized that in considering the year ahead I have been unintentionally holding back and not living my full life.
A river and water flow around obstacles not letting them stop. That's what I intend for my life in the coming twelve months. When I am in flow, I am on fire, and I do my best work. All is easy and everything comes to me, it flows to me. In flow I am joyous and best able to serve.
Deborah Roth adds,
WONDER is my word for 2022. Sometimes, I ruminate on choosing a word for the year over a few days, but this time, it popped into my head unbidden, and I realized that I could embrace it in two ways — as a verb, as in being curiously WONDERing and wide open to whatever this New Year will bring. And as a noun, to move through 2022 in a state of perpetual WONDER, allowing myself to approach every situation, relationship, new opportunity from a place of awe, delight, and appreciation for the unique beauty and wisdom it offers.
It'll be both a challenge and a spiritual practice to remember to do that!
What is your word for the year? Don't worry if you're reading this and it's not the beginning of the year, it's never too late to choose a word as a focus for your life – you can even do this on a monthly basis!
Share your word for the year or your experience with this practice below.
Have a happy and blessed 2022!
---
All information, content, and material is for informational purposes only and is not intended to serve as a substitute for the consultation, diagnosis, and/or medical treatment of a qualified physician or healthcare provider. The information supplied through or on this page, or by any representative or agent of The Wellness Universe, is for informational purposes only and does not constitute medical, legal, or other professional advice. Health-related information provided through this website is not a substitute for medical advice and should not be used to diagnose or treat health problems or to prescribe any medical devices or other remedies. The Wellness Universe reserves the right to remove, edit, move or close any content item for any reason, including, but not limited to, comments that are in violation of the laws and regulations formed pursuant to the Federal Food, Drug, and Cosmetic Act. None of the posts and articles on The Wellness Universe page may be reprinted without express written permission.
---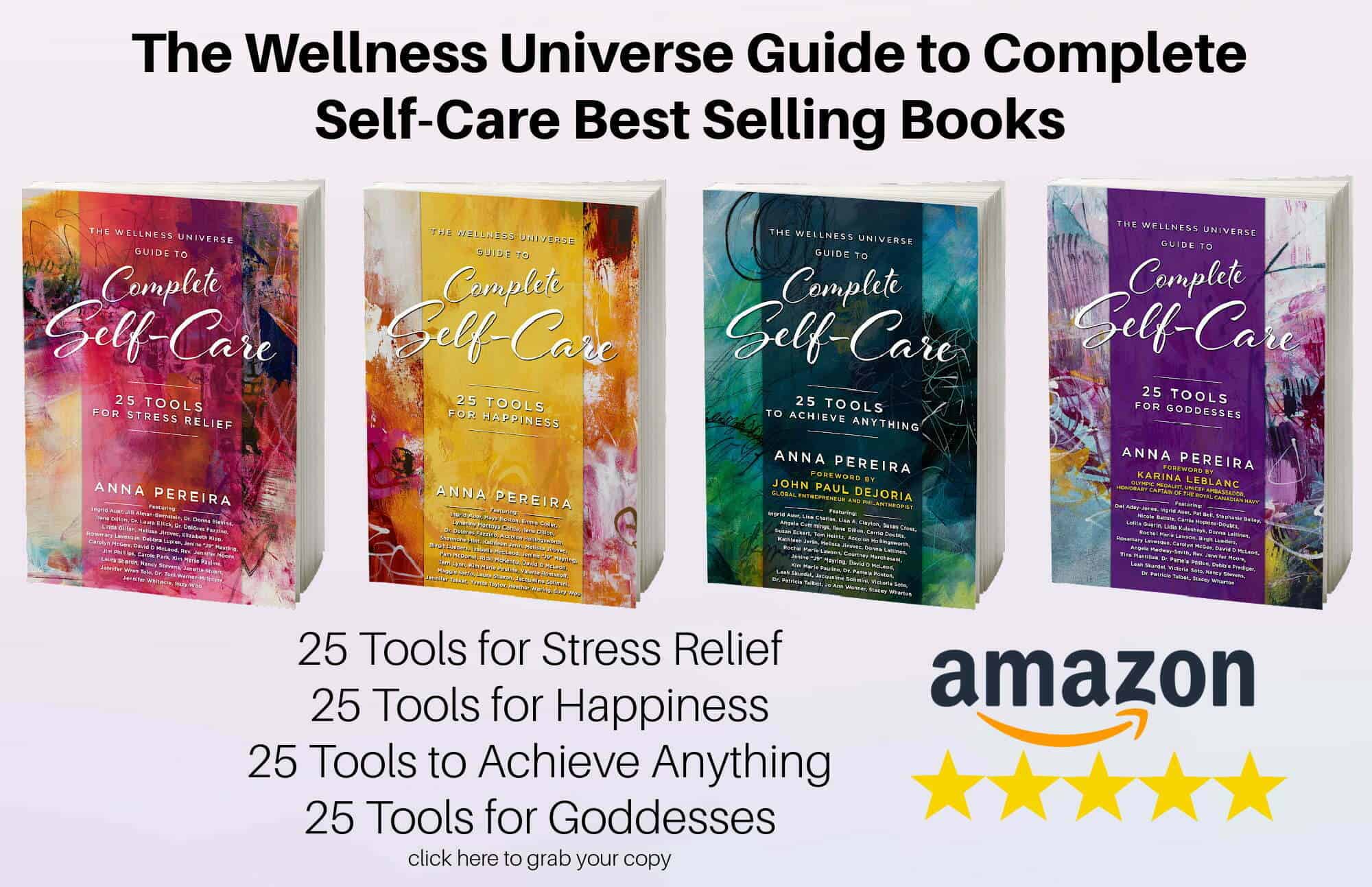 With over 250 independent reviews see how our self-care books are helping thousands of people around the world. Digital and paperback books are available now.
---
Self-development, self-care, and inspirational classes and sessions by Wellness Universe World Changer instructors who support your total well-being.
Visit The Wellness Universe Lounge today!
---
The Wellness Universe is here to serve your best well-being. If you are experiencing anxiety, grief, overwhelm, guilt, anger, or seeking ways to cope and get help for stress, relationships, parenting, or any other issue during this challenging time, we have wonderful resources for you to connect with. Our WU Best Help members are offering reduced rates, sliding scale payment options, and even pro-bono sessions.
WU Best Help
The Wellness Universe is your resource for health, wellness, well-being, and transformation. We serve and support professionals who make the world a better place and individuals and groups who seek their best life.
A woman owned company; having the vision in 2013, Anna Pereira launched the first directory in 2015 bringing together a community of members making the world a better place to be found by those seeking their best life. The Wellness Universe has grown since then to be a one-stop shop for total wellness support! We are a vetted community, online directory, book publisher, resource center, event producer, content platform, and so much more, supporting whole-health and well-being on a global scale.
The Wellness Universe is a home that connects industry professionals in the health, wellness, and well-being fields to seekers of total well-being. WU provides our WU World-Changer members with peer support, Wellness Universe produced events (live and online), projects, visibility, business mentoring, and community. Through The Wellness Universe our WU World-Changer members serve WU Friends, seekers of health, wellness and transformation, with coaching, workshops, content and more.
The Wellness Universe provides individuals and groups seeking their best lives with access to our members, wellness content, educational resources, and guidance in all areas of wellness to transform visions of how they want to live life into the life they experience.
Through the directory, WU Featured Blog, SoulTreat wellness retreat, Self-Care Books, group well-being programs, and online learning center, The Lounge, The Wellness Universe provides many avenues to support whole health, mind, body, spirit and planet.
Join us today! Wellness Professional or Seeker of Your Best Life