Self-care is one of the most loving acts of kindness you can do for yourself. As we show up for others, our careers, responsibilities, and more, we often put ourselves at the bottom of the priority list. Self-care is self-love. Our mind, heart, body, and spirit need to be loved, nurtured and cared for so we can mirror our love back out to those we love and the world. Here is a wonderful self-care tip about sound wellness from Wellness Universe World-Changer Sharon Carne.
We believe Sound Wellness is a wonderfully easy way to support yourself. It\'s easily accessible, as you can use your own voice or access music online or you can invest in your own sound wellness tools, like singing bowls or tuning forks to experience the shifting and releasing of emotions and transition to a more desirable experience anywhere, anytime.
Sound Wellness is proven to:
Reduce stress
Lower anxiety
Lowers blood pressure
Ground and center your energy
Heal from emotional trauma
Heal from physical trauma
Helps with autism
Helps with sleep disorders
Helps you relax
Sound Therapy is backed by science. They are even using sound wellness in hospitals and clinics around the world.
Here is Sharon Carne, founder of The Sound Wellness Institute's, self-care tip:
Sound is food for your nervous system. And like junk food, good food, and superfood there is junk sound, good sound, and super sound. Junk food, like traffic noise, raises stress hormones. Good sound, like nature sounds, stimulates the release of hormones that create relaxation and calm. Wind, water, and bird songs are the healthiest sounds for human beings. Super sound is sound that stimulates the natural healing ability of the body. Become aware of the sound around you and how it feeds (or doesn't feed) your wellbeing.
Have you put sound wellness into practice? Share your experience below.
If you haven\'t and are hoping to give it a try, which type of sound will you be using, music, nature sounds, or something else?
Connect with Sharon Carne if you found this self-care tip interesting and inspiring.
---
All information, content, and material is for informational purposes only and is not intended to serve as a substitute for the consultation, diagnosis, and/or medical treatment of a qualified physician or healthcare provider. The information supplied through or on this page, or by any representative or agent of The Wellness Universe, is for informational purposes only and does not constitute medical, legal, or other professional advice. Health-related information provided through this website is not a substitute for medical advice and should not be used to diagnose or treat health problems or to prescribe any medical devices or other remedies. The Wellness Universe reserves the right to remove, edit, move or close any content item for any reason, including, but not limited to, comments that are in violation of the laws and regulations formed pursuant to the Federal Food, Drug, and Cosmetic Act. None of the posts and articles on The Wellness Universe page may be reprinted without express written permission.
---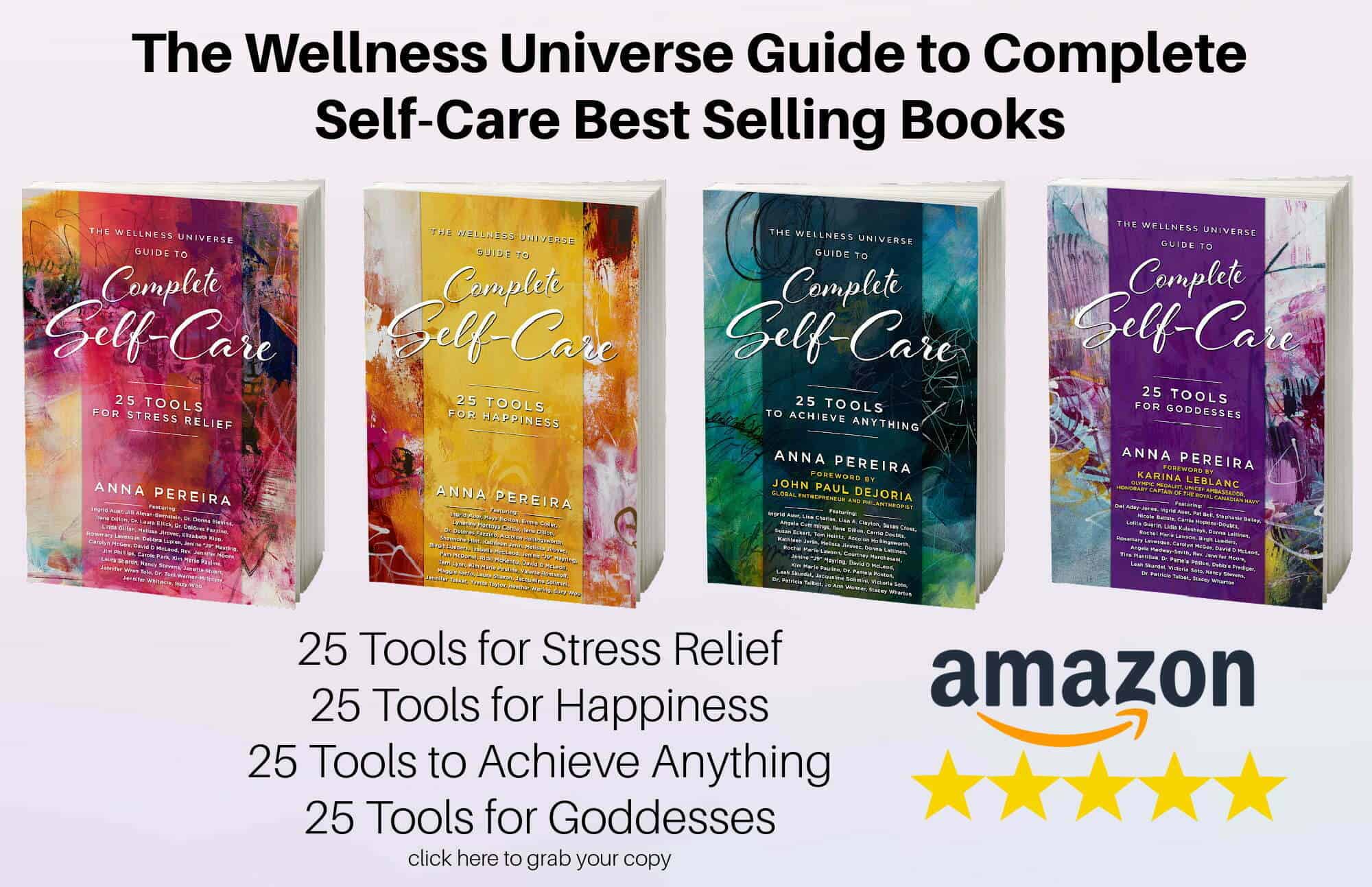 With over 250 independent reviews see how our self-care books are helping thousands of people around the world. Digital and paperback books are available now.
---
Self-development, self-care, and inspirational classes and sessions by Wellness Universe World Changer instructors who support your total well-being.
Visit The Wellness Universe Lounge today!
---
The Wellness Universe is here to serve your best well-being. If you are experiencing anxiety, grief, overwhelm, guilt, anger, or seeking ways to cope and get help for stress, relationships, parenting, or any other issue during this challenging time, we have wonderful resources for you to connect with. Our WU Best Help members are offering reduced rates, sliding scale payment options, and even pro-bono sessions.
WU Best Help
The Wellness Universe is your resource for health, wellness, well-being, and transformation. We serve and support professionals who make the world a better place and individuals and groups who seek their best life.
A woman owned company; having the vision in 2013, Anna Pereira launched the first directory in 2015 bringing together a community of members making the world a better place to be found by those seeking their best life. The Wellness Universe has grown since then to be a one-stop shop for total wellness support! We are a vetted community, online directory, book publisher, resource center, event producer, content platform, and so much more, supporting whole-health and well-being on a global scale.
The Wellness Universe is a home that connects industry professionals in the health, wellness, and well-being fields to seekers of total well-being. WU provides our WU World-Changer members with peer support, Wellness Universe produced events (live and online), projects, visibility, business mentoring, and community. Through The Wellness Universe our WU World-Changer members serve WU Friends, seekers of health, wellness and transformation, with coaching, workshops, content and more.
The Wellness Universe provides individuals and groups seeking their best lives with access to our members, wellness content, educational resources, and guidance in all areas of wellness to transform visions of how they want to live life into the life they experience.
Through the directory, WU Featured Blog, SoulTreat wellness retreat, Self-Care Books, group well-being programs, and online learning center, The Lounge, The Wellness Universe provides many avenues to support whole health, mind, body, spirit and planet.
Join us today! Wellness Professional or Seeker of Your Best Life