The Wellness Universe features Elizabeth Kipp, Health Facilitator, a resource for your well-being. As a member of The Wellness Universe, and International Best-Selling Author of the book Paths to Inner Peace: A 90-Day Journal, we wanted to share a bit about her work in the world:
Elizabeth Kipp is a Chronic Pain Specialist, Trauma-Trained and Yoga-Informed Addiction Recovery Coach, Ancestral Clearing® Practitioner, Yoga and Meditation Teacher, and international best-selling author of "The Way Through Chronic Pain: Tools to Reclaim Your Healing Power. She focuses on helping people realize the power of their inherent healing.
Elizabeth healed from more than 40 years of chronic pain, including anxiety, panic attacks, and 32 years of addiction to prescribed opiates and benzodiazepine medication. She now works to help others achieve the same healing that she experienced and offers one-on-one and group sessions in stress and chronic pain management and addiction recovery, Ancestral Clearing®, trauma-informed yoga, and meditation.
We asked Elizabeth Kipp to share her experience in writing her book. We're shining a light on her inspiration, writing process, reader reflections, and more.
WU: What influenced you to write your book Paths to Inner Peace: A 90-Day Journal?
ELIZABETH: As a part of my healing journey, I discovered the positive power of journaling. I wanted to make an inspirational journal available to others who were healing. So, I created this book.
WU: Tell us a bit about your journey. How long did it take you to write? How did writing your book change your life?
ELIZABETH: It took me eighteen months of development to write the book and get it illustrated. Each of the ninety pages has an inspirational quote that I shared on social media and received positive comments. Then I worked with my friend, Greg Cohane, to develop the artwork, which I felt would enhance the quotes and the user's journal entries. I had so much fun putting this book together. It is filled with my heart and with Greg Cohane's artwork.
WU: What are your readers sharing? How has your book inspired and impacted lives?
ELIZABETH: Here is a review of Paths to Inner Peace: A 90-Day Journal:
"This Journal is gorgeous! Such lovely artwork and the gentle guidance on what to look at are very helpful for people who can't figure out where to start. This is Inspired and Creative and very Useful."

– Celeste Mendelsohn, Yoga Therapist, Treating Trauma with Yoga
WU: What do you aspire to achieve through your book?
ELIZABETH: I created this journal so that the user can enter each daily account in whatever way supports them best. There is something unrivaled, cleansing, and healing about putting pen or pencil to paper and expressing one's innermost emotions. My hope is that users can quietly reflect on what has been birthed forth from within and discover a better understanding of themselves, ultimately deepening their sense of self-love and self-compassion. These daily entries are a critical part of finding the way to greater inner peace and the life we came here to live.
Here are a few suggestions for how you can use the journal pages:
Journal what you are grateful for each day.
Share an experience that led to more, or even less, peace in your life. As a journal of transformation, it is helpful to know where you are in the moment. Then later, you can look back and see how far you might have come in your journey to healing.
Bring back a leaf or other memento from walking in nature and tape it onto the page.
Allow yourself the freedom to express whatever you are feeling in the moment that you are visiting the journal for the day.
WU: Any final words you would like to share?
ELIZABETH: No matter how you decide to use these pages, you will learn more about yourself. As you discover more about yourself, you will be better able to see what is blocking you or opening up for you in your quest to heal. Awareness of your experience, whether you resist the moment or allow it, will serve you well as pointers to 'getting out of your own way' and letting the body do the healing that only it knows how to do!
Thank you, Elizabeth Kipp, for sharing. If you found this insightful and inspiring and would like to get a copy of Paths to Inner Peace: A 90-Day Journal, or to connect with Elizabeth Kipp, visit https://www.thewellnessuniverse.com/world-changers/elizabethkipp/
---
All information, content, and material are for informational purposes only and are not intended to serve as a substitute for the consultation, diagnosis, and/or medical treatment of a qualified physician or healthcare provider. The information supplied through or on this page, or by any representative or agent of The Wellness Universe, is for informational purposes only and does not constitute medical, legal, or other professional advice. Health-related information provided through this website is not a substitute for medical advice and should not be used to diagnose or treat health problems or to prescribe any medical devices or other remedies. The Wellness Universe reserves the right to remove, edit, move or close any content item for any reason, including, but not limited to, comments that are in violation of the laws and regulations formed pursuant to the Federal Food, Drug, and Cosmetic Act. None of the posts and articles on The Wellness Universe page may be reprinted without express written permission.
---
The Wellness Universe presents Lynda Lippin, Bone Health Expert Leader, CEO, and Pilates Goddess at Lynda Lippin Pilates, LLC, guiding you through Exercise for Bone Health, Strength, & Mobility 6-month program that will help you to enjoy better health, mobility, vitality, and overall wellbeing.
Register today prior to the LIVE launch: https://bit.ly/LyndaLippinCourse
---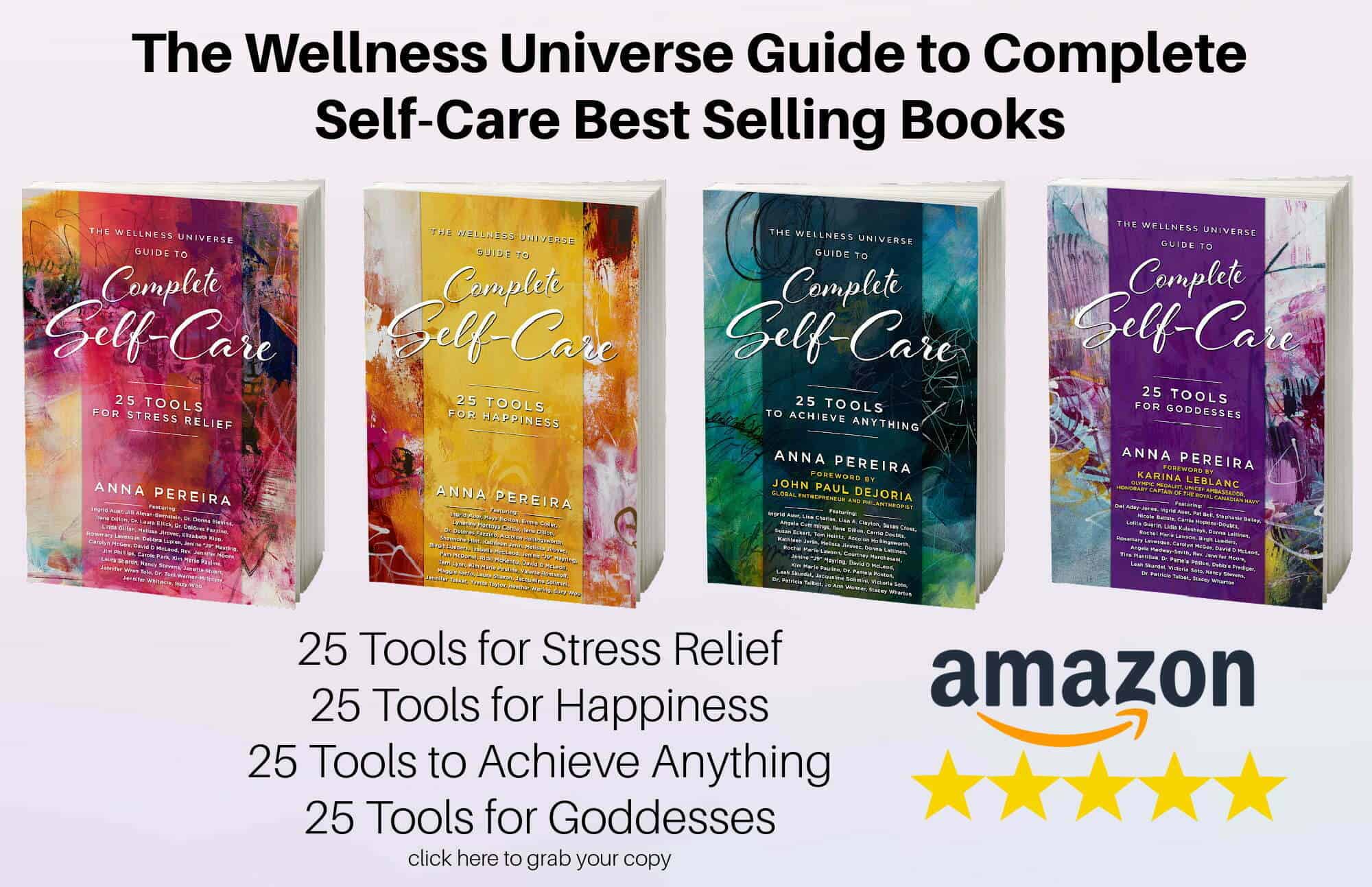 With over 250 independent reviews see how our self-care books are helping thousands of people around the world. Digital and paperback books are available now.
---
Self-development, self-care, and inspirational classes and sessions by Wellness Universe World Changer instructors who support your total well-being.
 Visit The Wellness Universe Lounge today!
---
The Wellness Universe is here to serve your best well-being. If you are experiencing anxiety, grief, overwhelm, guilt, anger, or seeking ways to cope and get help for stress, relationships, parenting, or any other issue during this challenging time, we have wonderful resources for you to connect with. Our WU Best Help members are offering reduced rates, sliding scale payment options, and even pro-bono sessions. WU Best Help
The Wellness Universe is your resource for health, wellness, well-being, and transformation. We serve and support professionals who make the world a better place and individuals and groups who seek their best life.
A woman owned company; having the vision in 2013, Anna Pereira launched the first directory in 2015 bringing together a community of members making the world a better place to be found by those seeking their best life. The Wellness Universe has grown since then to be a one-stop shop for total wellness support! We are a vetted community, online directory, book publisher, resource center, event producer, content platform, and so much more, supporting whole-health and well-being on a global scale.
The Wellness Universe is a home that connects industry professionals in the health, wellness, and well-being fields to seekers of total well-being. WU provides our WU World-Changer members with peer support, Wellness Universe produced events (live and online), projects, visibility, business mentoring, and community. Through The Wellness Universe our WU World-Changer members serve WU Friends, seekers of health, wellness and transformation, with coaching, workshops, content and more.
The Wellness Universe provides individuals and groups seeking their best lives with access to our members, wellness content, educational resources, and guidance in all areas of wellness to transform visions of how they want to live life into the life they experience.
Through the directory, WU Featured Blog, SoulTreat wellness retreat, Self-Care Books, group well-being programs, and online learning center, The Lounge, The Wellness Universe provides many avenues to support whole health, mind, body, spirit and planet.
Join us today! Wellness Professional or Seeker of Your Best Life