David McLeod reads Chapter 17: Shadow Spotting – A Tool for Soul Illumination and Liberation from the #1 best-selling book in several categories on Amazon, The Wellness Universe Guide to Complete Self-Care, 25 Tools for Goddesses.
Listen and watch the video below as he reads it!
David opens his chapter with a life-transforming experience. Here is an excerpt:
I stood with 25 other people around the outer edge of The Carpet. I was pumped with energy because I knew that today would be a very powerful and special day.
"This Carpet is sacred space." The facilitator stood in the center, turning slowly to address everyone. He spoke solemnly and reverently.
"Many have come before you," he continued. "They stepped into the center, declared what they were here to do, and then broke themselves open to reveal—and to seize—the gold and the beauty within. Today, if you choose, you will have an opportunity to do the same."
He paused to allow his words to take root in our hearts.
"This is serious work, my friends, perhaps the most important you will ever do. If you take this opportunity, you will come away transformed. Your life will change in ways you cannot even imagine right now. You all came here for a reason. Your minds might not know that reason, but your hearts have no doubt that you are here to reclaim something that you left behind long ago."
My body was ringing like a bell. I could feel energy swimming through me, and I just wanted to leap into the center of The Carpet and do my work.
Tears began to flow out of me as the facilitator spoke. He wasn't done yet.
"People have cried their eyes out on this carpet to get what they came for."
"People have emptied their guts on this carpet to get what they came for."
"People have cracked their hearts wide open on this carpet to get what they came for."
"People have bled on this carpet to get what they came for."
He paused again for effect. Then, barely above a whisper, he said …"
Watch and listen to the video below to experience his entire chapter and even as David reads, to this day, you can see how emotional his story is.
David is an expert in shadow work. His self-care tool to help you with your shadow work will change your life.
About this book:
The Wellness Universe Guide to Complete Self-Care, 25 Tools for Goddesses Amazon #1 Best Seller in 6 categories features stories and tools from healers, guides, teachers, and wellness professionals around the world to support us to live in our unique Goddess energy.
25 dedicated Wellness Universe experts come together to help you live a life of well-being, confidence, balance, and betterment in this powerful collaboration.
The collective wisdom, expertise, and passion contained in the pages of this book is beyond what you can imagine. With the power of their authentic stories and the master teaching of their tools, what you have in your hands supports you to live in your unique Goddess energy from a foundational, whole-person approach.
Pick up your copy on Amazon.
Connect with David on The Wellness Universe.
---
All information, content, and material is for informational purposes only and is not intended to serve as a substitute for the consultation, diagnosis, and/or medical treatment of a qualified physician or healthcare provider. The information supplied through or on this page, or by any representative or agent of The Wellness Universe, is for informational purposes only and does not constitute medical, legal, or other professional advice. Health-related information provided through this website is not a substitute for medical advice and should not be used to diagnose or treat health problems or to prescribe any medical devices or other remedies. The Wellness Universe reserves the right to remove, edit, move or close any content item for any reason, including, but not limited to, comments that are in violation of the laws and regulations formed pursuant to the Federal Food, Drug, and Cosmetic Act. None of the posts and articles on The Wellness Universe page may be reprinted without express written permission.
---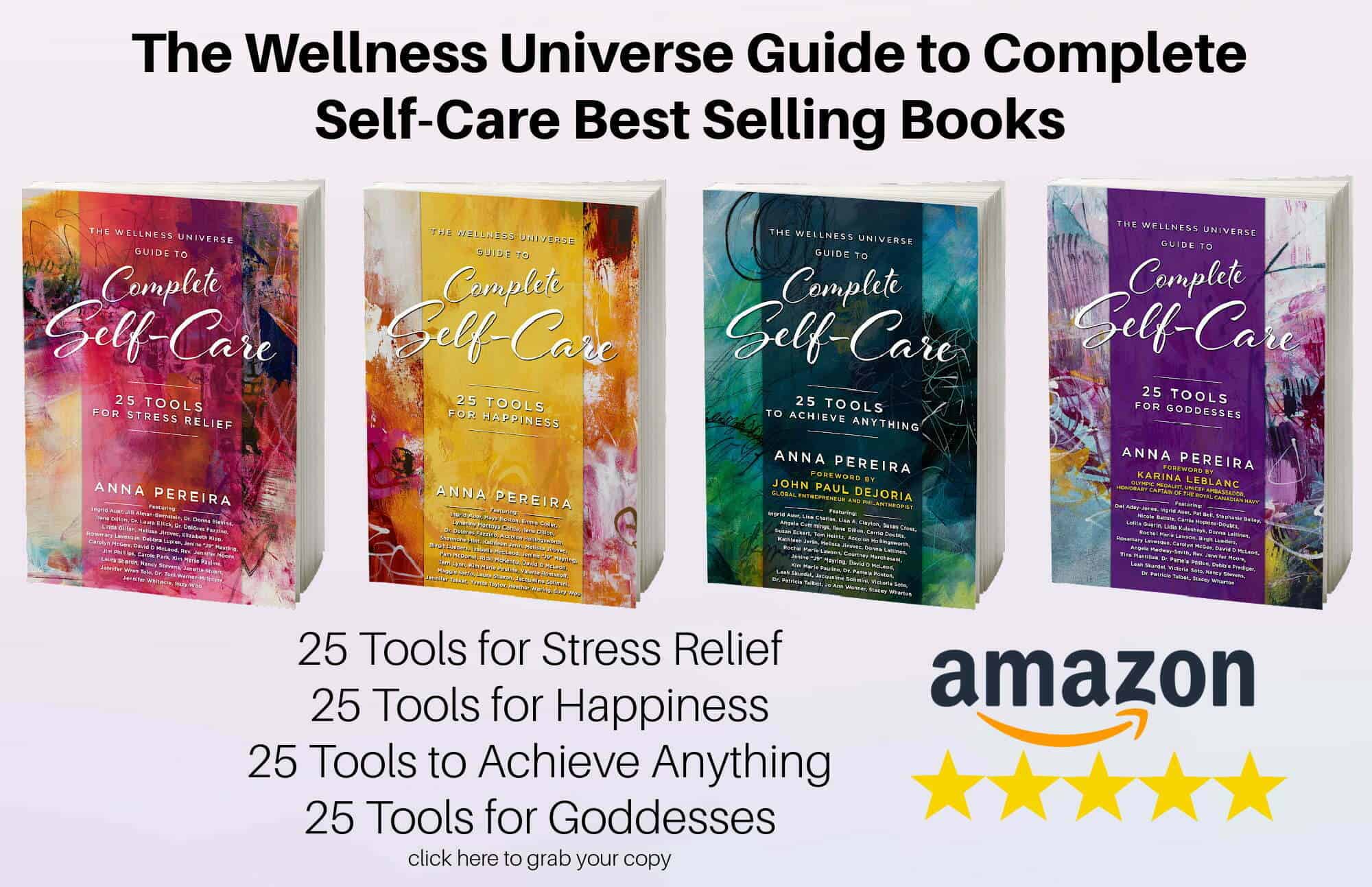 With over 250 independent reviews see how our self-care books are helping thousands of people around the world. Digital and paperback books are available now.
---
Self-development, self-care, and inspirational classes and sessions by Wellness Universe World Changer instructors who support your total well-being.
Visit The Wellness Universe Lounge today!
---
The Wellness Universe is here to serve your best well-being. If you are experiencing anxiety, grief, overwhelm, guilt, anger, or seeking ways to cope and get help for stress, relationships, parenting, or any other issue during this challenging time, we have wonderful resources for you to connect with. Our WU Best Help members are offering reduced rates, sliding scale payment options, and even pro-bono sessions.
WU Best Help
The Wellness Universe is your resource for health, wellness, well-being, and transformation. We serve and support professionals who make the world a better place and individuals and groups who seek their best life.
A woman owned company; having the vision in 2013, Anna Pereira launched the first directory in 2015 bringing together a community of members making the world a better place to be found by those seeking their best life. The Wellness Universe has grown since then to be a one-stop shop for total wellness support! We are a vetted community, online directory, book publisher, resource center, event producer, content platform, and so much more, supporting whole-health and well-being on a global scale.
The Wellness Universe is a home that connects industry professionals in the health, wellness, and well-being fields to seekers of total well-being. WU provides our WU World-Changer members with peer support, Wellness Universe produced events (live and online), projects, visibility, business mentoring, and community. Through The Wellness Universe our WU World-Changer members serve WU Friends, seekers of health, wellness and transformation, with coaching, workshops, content and more.
The Wellness Universe provides individuals and groups seeking their best lives with access to our members, wellness content, educational resources, and guidance in all areas of wellness to transform visions of how they want to live life into the life they experience.
Through the directory, WU Featured Blog, SoulTreat wellness retreat, Self-Care Books, group well-being programs, and online learning center, The Lounge, The Wellness Universe provides many avenues to support whole health, mind, body, spirit and planet.
Join us today! Wellness Professional or Seeker of Your Best Life