May is Mental Health Awareness month. We at the Wellness Universe are following the lead of NAMI (National Alliance on Mental Illness) to help fight stigma, provide support, educate the public, and advocate for policies that support people with mental illness and their families.
For more information, resources, and ways you can spread Mental Health Awareness, we invite you to visit NAMI. (National Alliance on Mental Illness).
Recognizing Stress as a Leading Factor
Everyone experiences stress. Sometimes it can help you focus and get the task done. But when stress is frequent and intense, it can strain your body and make it feel impossible to function. Finding effective ways to cope is crucial to living and feeling well.
How Stress Affects Our Mental Health
Stress impacts your entire body, mentally, as well as, physically. Some common signs can include:
·  Headaches
·  Trouble sleeping
·  Jaw pain
·  Changes in appetite
·  Frequent mood swings
·  Difficulty concentrating
·  Feeling overwhelmed
When experiencing long-term stress, your brain is exposed to increased levels of a hormone called cortisol. This exposure can weaken your immune system, making it easier for you to get sick. Stress can contribute to or worsen symptoms in some types of mental illness. Knowing which situations cause it, is the first step in coping with this very common experience.
There are tools and exercises available to us to help improve our mental health and practice regular self-care. 
Self-help Tools to Get You Started
·  Meditation – Meditation offers us an oasis of relaxation amid the stress we've created. Research suggests that meditation has the potential for more than just temporary stress relief. "Meditation is also a consciousness-changing technique that has been shown to have a wide number of benefits on psychological well-being." (National Center for Complementary and Integrative Health. Meditation: In-Depth. Updated January 2, 2019.) Not only does it help with mental health, but it can also help fight chronic illnesses, heart disease, and chronic pain.
·  Physical exercise – A recent study following participants over a four-year period found that those individuals who engaged in regular physical exertion experienced substantially lower levels of depression and anxiety as compared to sedentary individuals. (Ströhle et al. 2007) Exercise tops the list as a proven means for mental health management and mood improvement.
·  EFT (Emotional Freedom Technique) – Emotional Freedom Technique (EFT Tapping) is beneficial for releasing anxiety, negative thoughts, fears, phobias, and behaviors that have become stored in our bodies on a cellular level. Psychological acupressure delivered with EFT is an excellent way to overcome emotional barriers that can make you feel "stuck" or in a rut in certain aspects of your life.
·  Breathwork – The power of breathwork can be immensely healing, and can help give you the strength you need to get through painful, stressful, or anxiety-causing situations. If you're new to restorative breathing, there are several calming, breath-related apps that are out there for phones and tablets. Learning this valuable skill could literally save your life someday.
·  Mindfulness – The practice of mindfulness can help you become resilient to stress, help with decision-making, improve focus and productivity, and increase emotional intelligence. It's the practice of focusing attention on the present moment and accepting it without judgment. Described by the Merriam-Webster dictionary as, "the practice of maintaining a nonjudgmental state of heightened or complete awareness of one's thoughts, emotions, or experiences on a moment-to-moment basis." When we are being mindful, we can see our thinking calmly and objectively. Reactive thoughts no longer control us. We can then respond to situations according to our values instead of reacting emotionally.
We encourage you to reach out to one of our professionals at The Wellness Universe for instruction, coaching, and support. Taking small steps will keep you proactive and help you safeguard your mental health and live a better life. 
---
All information, content, and material are for informational purposes only and are not intended to serve as a substitute for the consultation, diagnosis, and/or medical treatment of a qualified physician or healthcare provider. The information supplied through or on this page, or by any representative or agent of The Wellness Universe, is for informational purposes only and does not constitute medical, legal, or other professional advice. Health-related information provided through this website is not a substitute for medical advice and should not be used to diagnose or treat health problems or to prescribe any medical devices or other remedies. The Wellness Universe reserves the right to remove, edit, move or close any content item for any reason, including, but not limited to, comments that are in violation of the laws and regulations formed pursuant to the Federal Food, Drug, and Cosmetic Act. None of the posts and articles on The Wellness Universe page may be reprinted without express written permission.
---
The Wellness Universe presents David McLeod, Life Mastery Expert Leader guiding you through Grateful at Last! A Guided Tour to Life's Greatest Gift.
Live every 3rd Thursday of the month starting 7/21/22 through 6/15/23 at 2pm ET/11am PT each 120-minute session will be recorded.
Register today prior to the LIVE launch: bit.ly/3KXJGdK
---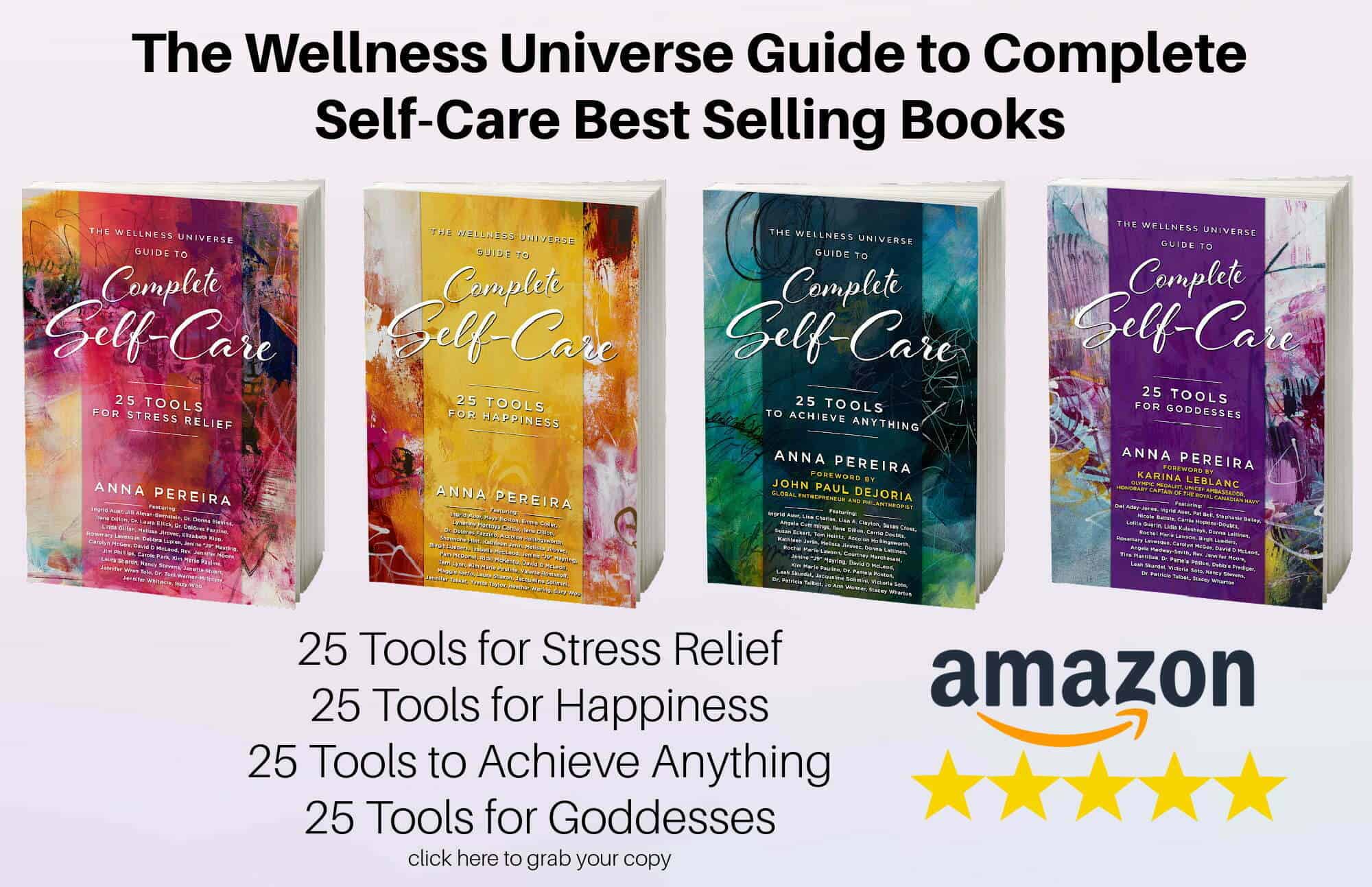 With over 250 independent reviews see how our self-care books are helping thousands of people around the world. Digital and paperback books are available now.
---
Self-development, self-care, and inspirational classes and sessions by Wellness Universe World Changer instructors who support your total well-being.
 Visit The Wellness Universe Lounge today!
---
The Wellness Universe is here to serve your best well-being. If you are experiencing anxiety, grief, overwhelm, guilt, anger, or seeking ways to cope and get help for stress, relationships, parenting, or any other issue during this challenging time, we have wonderful resources for you to connect with. Our WU Best Help members are offering reduced rates, sliding scale payment options, and even pro-bono sessions.
WU Best Help
The Wellness Universe is your resource for health, wellness, well-being, and transformation. We serve and support professionals who make the world a better place and individuals and groups who seek their best life.
A woman owned company; having the vision in 2013, Anna Pereira launched the first directory in 2015 bringing together a community of members making the world a better place to be found by those seeking their best life. The Wellness Universe has grown since then to be a one-stop shop for total wellness support! We are a vetted community, online directory, book publisher, resource center, event producer, content platform, and so much more, supporting whole-health and well-being on a global scale.
The Wellness Universe is a home that connects industry professionals in the health, wellness, and well-being fields to seekers of total well-being. WU provides our WU World-Changer members with peer support, Wellness Universe produced events (live and online), projects, visibility, business mentoring, and community. Through The Wellness Universe our WU World-Changer members serve WU Friends, seekers of health, wellness and transformation, with coaching, workshops, content and more.
The Wellness Universe provides individuals and groups seeking their best lives with access to our members, wellness content, educational resources, and guidance in all areas of wellness to transform visions of how they want to live life into the life they experience.
Through the directory, WU Featured Blog, SoulTreat wellness retreat, Self-Care Books, group well-being programs, and online learning center, The Lounge, The Wellness Universe provides many avenues to support whole health, mind, body, spirit and planet.
Join us today! Wellness Professional or Seeker of Your Best Life